We all desire that healthy body and mind, that phase of life where you're so pumped up to pursue your dreams. That dream is only going to come to pass when you take into consideration that YOU ARE A PRODUCT OF WHAT YOU EAT. Yes, read that again. You are what you eat. In fact, your diet is so important that you just have to give it premium ranking. A lot of us eat what we see. But how about making sure what we eat is actually beneficial to our body? You'd agree with me that our bodies deserve every nutrient we can give it. So, how exactly do we achieve this? What foods are right for us?
EATING OF FRUITS.
From time immemorial, it's been chanted and chorused and talked about so much and yet, so neglected Remember, an apple a day keeps the doctor away. In a day, as much as possible, eat a fruit. Citrus fruits are packed with vitamins, Banana fills you, carrot is good for your skin and hair and nuts are high in potassium. So, you're boxed in here. You've got no choice. Start taking a fruit daily and you'll be glad you did.
YES, VEGETABLE IS A MUST
Another good you can do yourself is the consumption of vegetables. Green vegetables are actually very good for physical wellbeing. If you need to cook your vegetables before eating, be careful not too over cook. Try to eat them fresh and bliss awaits you.
SALT AND SUGAR INTAKE
They are actually good for the body in minimal doses because as you know, too much of everything is bad. This is especially true of the white seasoners, as I call them. To get used to minimal salt in your food, go for flavor rather than taste. Also, use sugar sparingly or alternate with natural seasoners such as dates or honey, and soon, your taste buds will get used to them and your physical wellbeing will be better for it.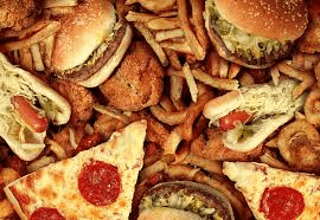 AVOID JUNKS/FAST FOODS
In addition, cut back on junk and processed, otherwise known as fast foods. Most of them come with saturated fat that does ill to the body. When in need of a quickie meal, go for fruits.
DRINK WATER.
The human body needs up to 9 glasses of water daily. That's about 3 litres. Water cleanses us and flushes out germs. Instead of taking a soft drink, take water. Instead of chilled water when you are hot and sweaty, take room temperature water. It is best for your body system at that time because it cools your temperature as opposed to chilled water, which offers a momentary chill and leaves you craving for more cold water. And let me chip in here that cold water is also not good for your health. So when next you're hot and sweaty, go for room temperature water.
Lastly, the list to eating well is endless but starting is important. I've pointed you in the right direction, the next step is yours. Cheers to good health!